Designing for the Scent of Information
http://www.uie.com/reports/scent_of_information/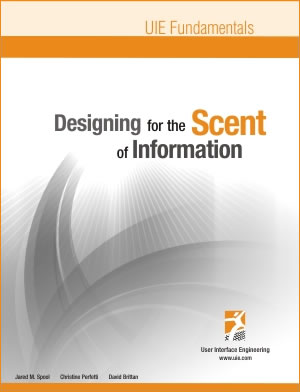 Designing for the Scent of Information
The Essentials Every Designer Needs to Know About How Users Navigate Through Large Web Sites
By Jared M. Spool, Christine Perfetti, and David Brittan
ということで、大規模サイトにおけるナビゲーションなどを科学的にまとめたレポートが出版されるようですので、メモ。
下記のようなことが書かれているらしいので見てみたいんだけど、いかんせん英語だけだと辛いものがあるので翻訳されることを祈る……。
An Introduction to Scent. We start with an example of what scent looks like when it works. You'll see how a user successfully works their way straight to their desired content, hidden deep within HP.com's web site.
Things that Block Scent. We'll then walk through some of the most common ways designers block scent on web sites: iceberg syndrome, camouflaged links, banner blindness, links that lie, missing words, and misplaced links. You'll see examples of both good and bad trigger words from a variety of sites, such as the sites for the Boston Globe and the Discovery Channel.
Navigation-Panel Shell Games. You'll see the problems we frequently find with navigation panels and global navigation. We'll show you some classic problems from Amazon.com, Fidelity.com, and other sites, as they try, unsuccessfully to help users move toward their targets.
Longer is Better. What is the optimal length of a link? How long should your pages be? Looking at the data we've collected in thousands of clickstreams, you'll see exactly how long your links and pages should be, including insightful examples from CNN and Sprint.com.
The Scent of Graphics. Our research has identified and classified the three types of graphics: navigation graphics, content graphics, and decorative graphics.